My Previous Cars
Peugeot 307 XSI
Well, I have finally done it sold my previous car, my very much loved & sorely missed 306 S16 & moved on to another. A 307 XSI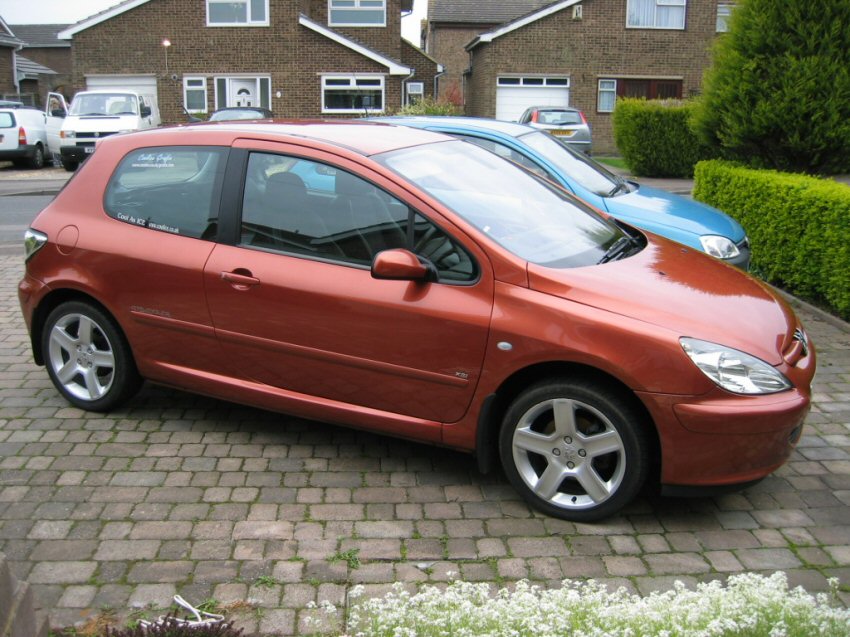 At present it is standard, with all the usual XSI refinements. Although a little bigger than my 306 & in theory not as powerful it still feels remarkably quick. As it's quieter & gives a softer ride this fools you somewhat and before you know it your moving fairly quickly.
What plans I have for this I do not know, I do know that I will not be going as far with it as I did the 306. While I would love to time, money & actually doing to work is against me. Although I do have a small list, which may grow in time ;-)
1. Would love to lower it with a decent shock & spring setup.
2. Also to add a stainless exhaust to give it that gorgeous sound the 306 had, that is missed very much.
Keep your eye's peeled on this web page, I'm yet to learn all about this car now. The S16 I knew inside out, this one's gonna take me some time again.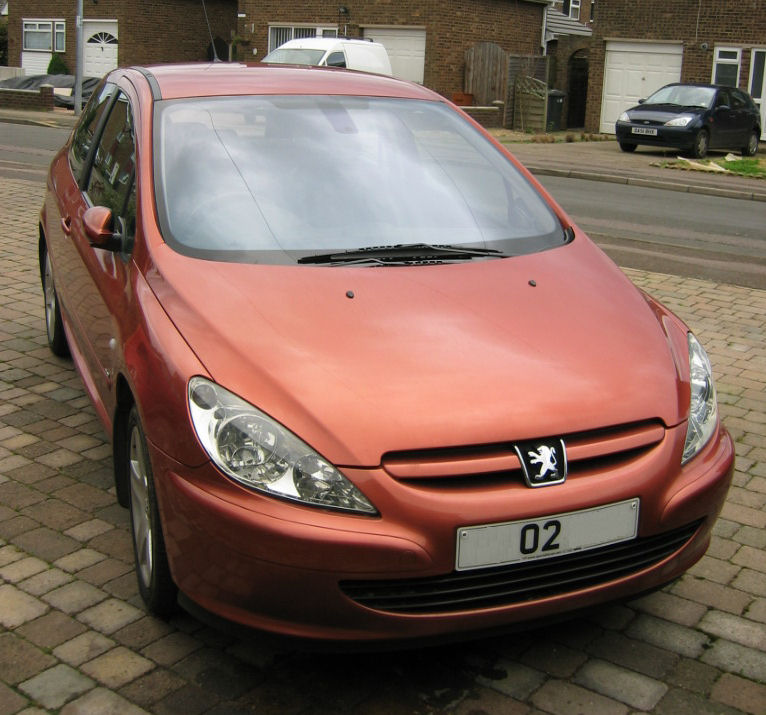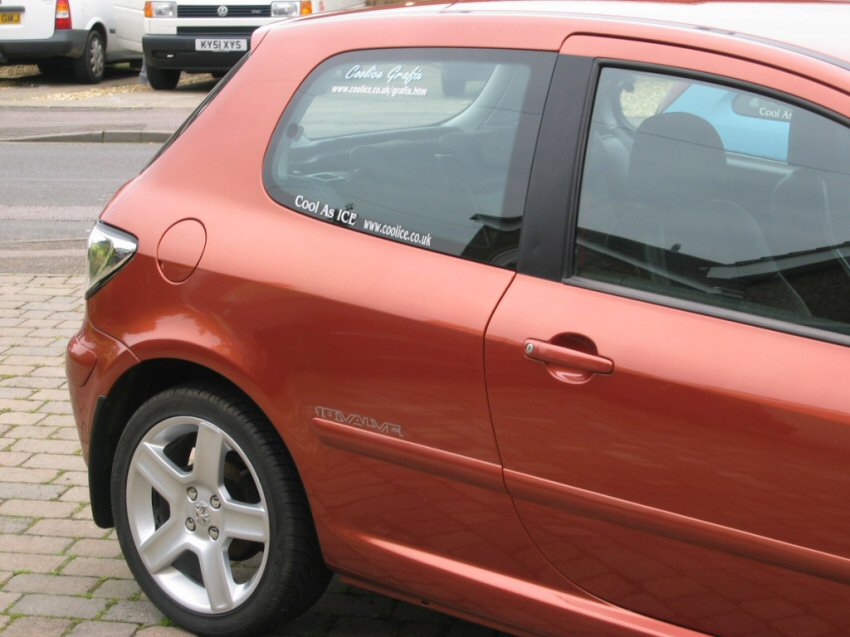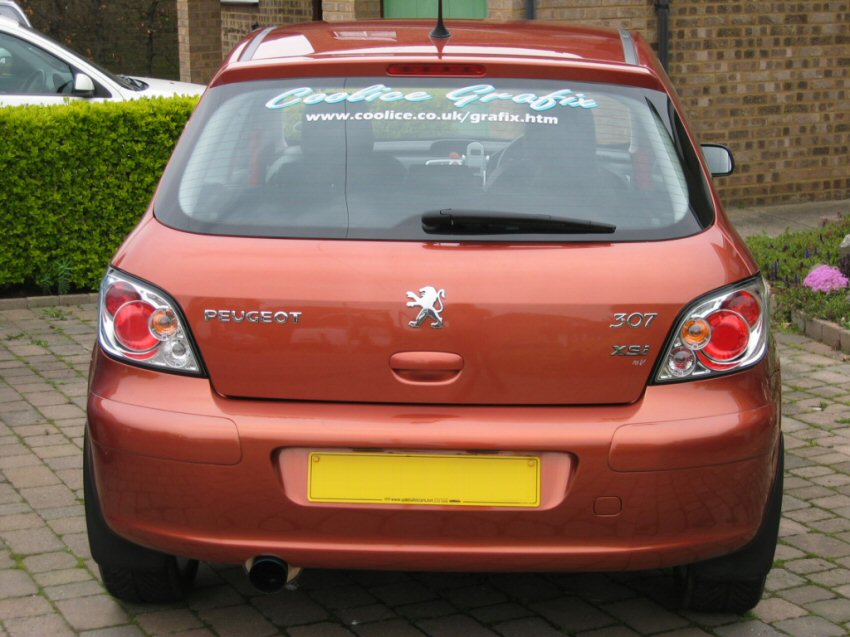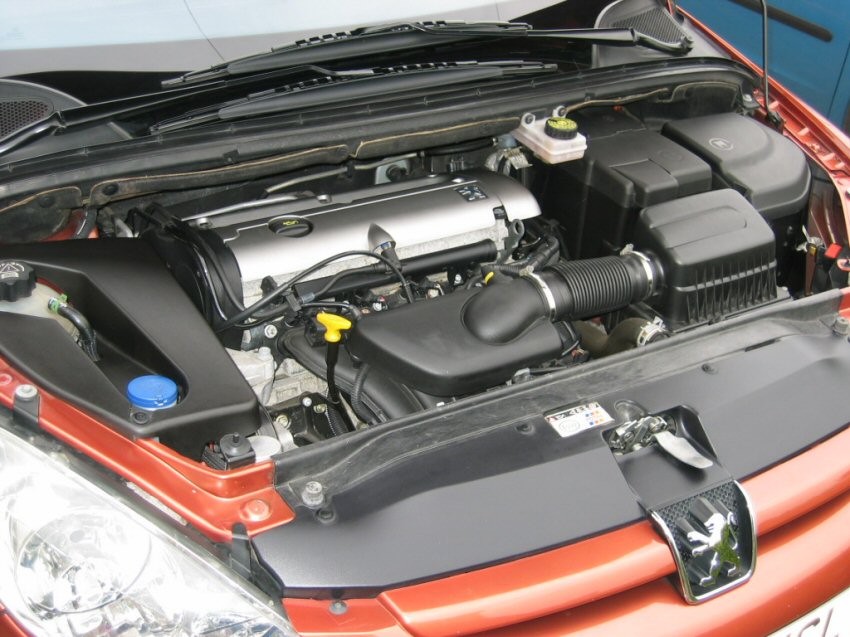 The stock exhaust has finally given up the ghost and started blowing, hinting at how good the car will sound with a stainless system.
Well guess what? ;-) My birthdays coming up soon (and Christmas) and with nothing else to buy me the Fiancee's agreed to buy me a Power Flow cat back system................. yippee!!!!
As the 307 is still a new car, off the shelf performance exhausts are thin on the ground. Or more to the point dam expensive for what you get, just under £200 gbp's for a back box?!?!?! No way am I paying that.
Power Flow have projected £280 ~ £310 gbp's for a Stainless Steel cat-back system matched to my car, so for that sort of money you cannot go wrong. It's booked in for 9am Friday 21st October 2005, so the car will sound great about 3 hours later.
Pictures when I have it.
Also I have fitted a set of Lexus style rear lights, a bargain off Ebay at £65 inc. Postage.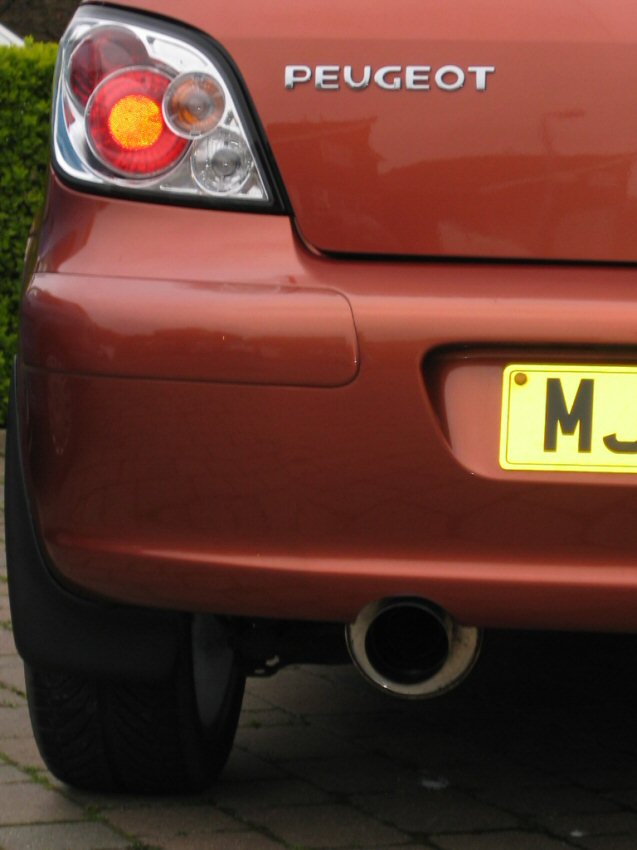 This is great, the amount of times I've been driving along, having totally forgot by bluetooth headset and then got a call!! Basically the idea of this unit is to connect to your phone via BT, then pass these signals through to your cars built in speakers, muting the radio at the same time so you can hear the call.
In my case I use a Nokia 6630, which also has TomTom SatNav working on it (another great program) and I really wanted the verbal direction instructions to come through the cars speakers as well as phone calls. Originally I wanted to try a unit first in the shop before I brought it, but alas I couldn't and took a chance.
The gamble worked, I can make and receive calls as I knew I would and also have the radio cut out when a direction instruction is given by TomTom, excellent! I went for the 2nd model in the range, the CK3100 with a small external display. Some higher models have a coloured screen and also a built in GPS receiver, the coloured screen would be fun but the GPS receiver I already have and so I didn't need another.
For £75 off Ebay again it's another bargain, read about them here :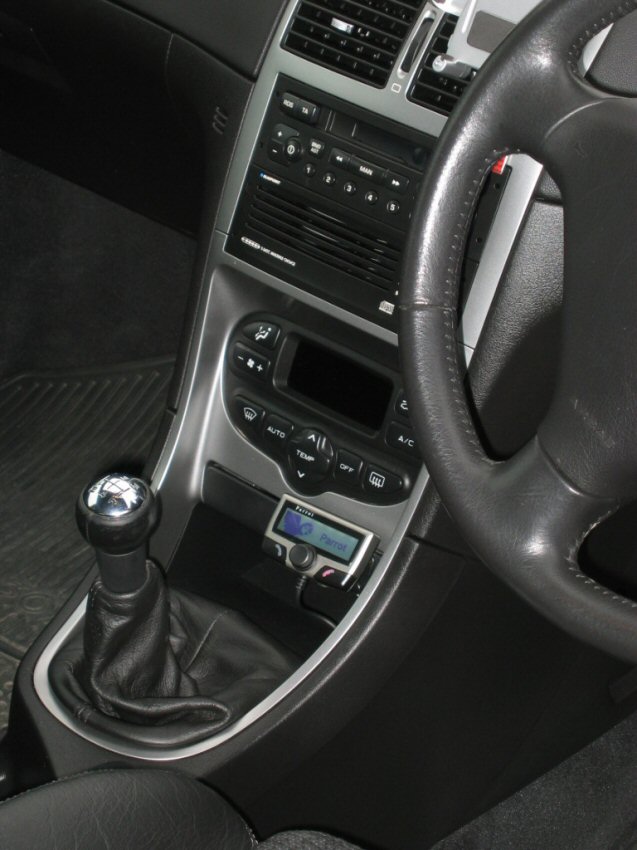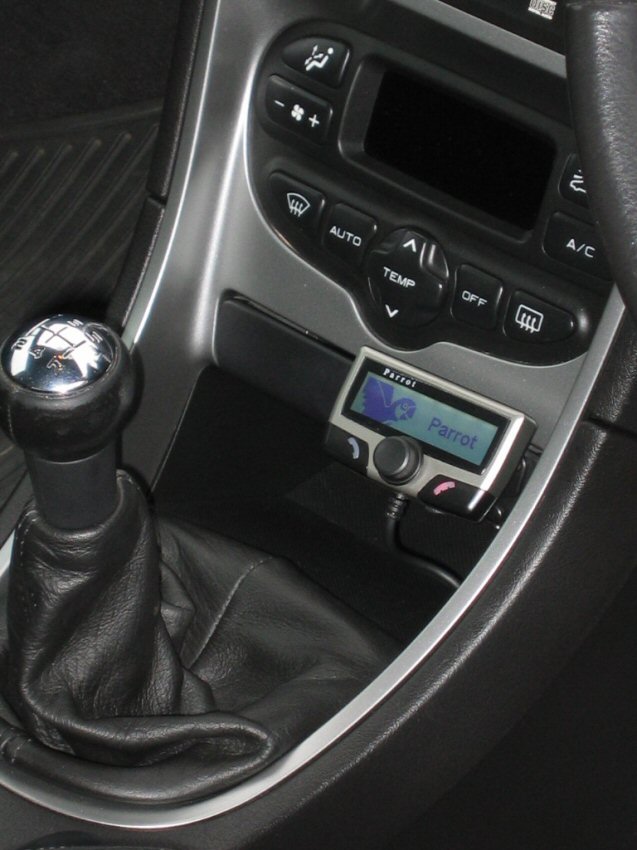 Have you noticed the vinyl signs on the car? So far only small ones for my car, but some other bigger projects will hopefully be coming about soon.
Want vinyl graphics for your car? Visit Coolice Grafix for more
I've sold this car now, my last Peugeot for a while :-( Shame as I really liked my Peugeots but there was nothing in the current range which really tickled my fancy. See my new car page to see what I have now ;-)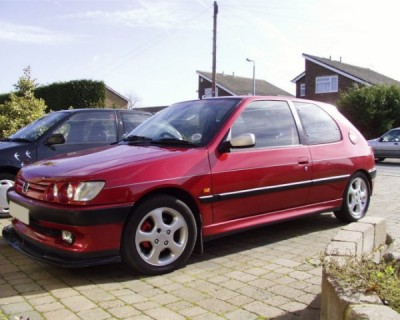 My own car started life as an ordinary Peugeot 306 S16, a rare car but just as Peugeot had intended it to be like when it left the factory! Time then saw it sporting twin headlamps, a lower front spoiler, a boot spoiler and a performance backbox.
As time went by and I got use to the car it was time to start modifying it further. First the Clifford Alarm taken from my previous car was installed, and proved to be doing a good job of protecting my investment. Followed by the stereo that I had built up over the previous years.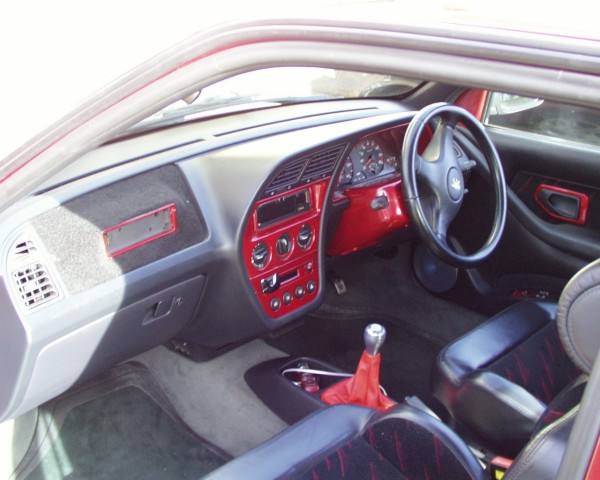 To head up the install a Pioneer KEH-P8800R Radio/Cassette coupled to a six disk Multichanger, which then sends an audio signal to a Pioneer DEQ-9200 DSP Signal Processor and surround sound unit. This really neat bit of kit allows the user to fine tune the sound he or she hears, and also looks quite good in the dark!
This unit is also an active crossover filtering the audio signal into three different categories.
Sub Bass signals
Mid range/Mid bass frequencys
High end frequencys
These three outputs are then feed to their own individual amp and speaker combination. Again the unit allows the user to fine tune the sounds coming from each speaker to make the music just right.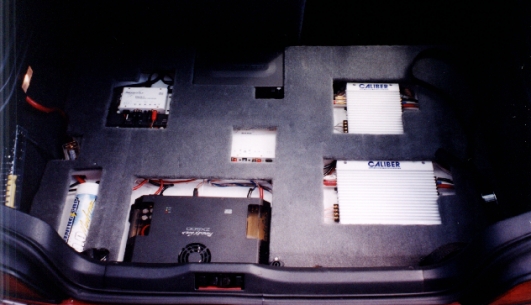 Sub Bass is blasted out by a pair of JL Audio 15W4's connected to a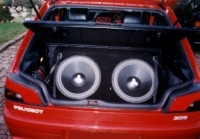 Phoenix Gold ZX500 amplifier running in bridged mono format. The signal to this amp is bolstered by a Phoenix Gold Line Driver(PLD1), before going through a Phoenix Gold Bass Cube used to squeeze that little extra sound during a metered blast.

Mid Range is played by a pair of Kenwood 5.25" Dual Mag Speakers connected to stereo channels of a Calibre CA150 amplifier, whose signal is supplied direct from the DSP unit.
High End(Tweeter) level is produced by a pair of Alpine Tweeters connected to a Calibre CA70 amplifier, again fed direct from the DSP unit.
The latest addition to the setup has been the installation of Pioneer's new 7" Wide Screen Television(AVX-7000) and TV Tuner(GEX-P7000TVP). The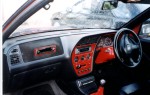 package is slightly more expensive than other TV's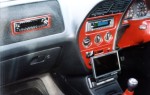 recently introduced for car installations, but because it is the same make as the equipment I already have the sound can be treated the same as if it where a CD in the multichanger.
Click on the TV screen
Although it sounds a little extravagant having a TV in the car it is fun, plus if I get fed up of getting lost around London I can have the navigation unit linked to it!!
Another little touch that I added myself was to adapt the steering column radio controls to control the radio through the remote control. This was achieved by:-
Wiring a connector to the apropriate points on the remotes circuit board.
Then making a small electronic circuit containing 4 miniture relays which were then connected to the control stalks switches. And the opposite plug wired through the relays switches.
When the remote is connected to the mounting plug the stalks switches bypass the remotes own buttons, hence turn the volume up or down, or selecting the next track of the CD/Tape being played.
An interface is now available to do this without fuss, but it is one of those little touches that adds points on a judging score sheet as being individual to that owner.

Future upgrades are to hopefully include a DVD Player, the longer I can hold out the cheaper they will become and also a docking bay build which will allow me to slot a Playstation in and play a game on screen.

As you can see the rest of the car has also seen major changes of the cosmetic variety with colorcoding being a major mod. The exterior didn't escape either with the entire bumpers now matching the overall color.
The window wiper arm's have also had a tiff with a spray gun, which won. An Impreza Bonnet scoop and RS Turbo Style vents have a cosmetic and functional use to perform. Due to the size of the engine fitted in a relatively small engine bay it tends to get hot quite quickly in the summer months, hense my discision to vent the bonnet allowing cooling air to circulate more easily.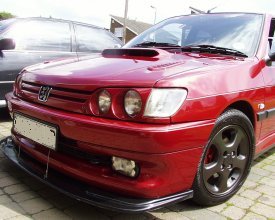 I am presently working on some side pods for the boot, which is an area of the install I wasn't to impressed with cos the wires were visible coming down from the roof area. One is made so far, the other is well on the way I just need to get myself some more carpet to cover them with.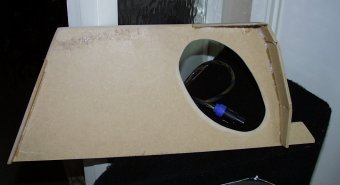 The cutout will allow me to get to my tool kit mounted on the side of the boot, due to it being closed in the neon wire will light the area more as well which will be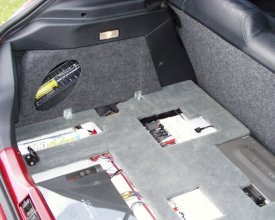 good.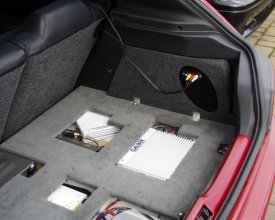 Now the sides are carpeted they look really good and serve the purpose I intended them to which is to tidy up the sides of the boot, at the same time covering the wires running down the sides.
My other recent addition to my collection of gadgets is Pioneers little DVD player.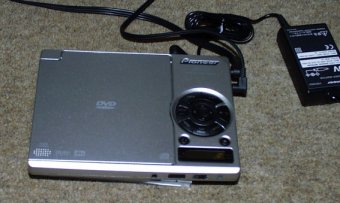 I didn't wait for the specific car player as I wanted to use DVD's at home as well, this unit will allow me to use it both in the car and in the home. It is quite a dinky and cute little thing and for it's size is capable of doing an awfull lot. Digital Theatre Surround(DTS) is available if you have the appropriate amplifier and number of speakers.
That girl from the Renault Ad is wrong "Size doesn't matter!".
Another recent job I had to do was to replace the passenger side door multi-pin plug as the wires had broken and the outside temperature guage wasn't working. I had already done the drivers side a couple of months previous as the speaker only worked when the door was opened at the right angle!
This job isn't one that is taken lightly and i know to get the job done at the garage, for both sides, would cost in the region of £400.00!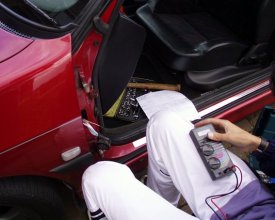 In any case it is really just a case of cutting and joining 24 wires, the down side is that the door has to come off to do it properly but that isn't to hard.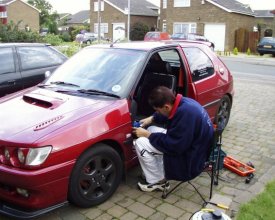 If anyone has problems with their wiring harnesses I can change them for £100 pound a door.
I think I could start a new craze, don't mess around removing the doors locks just take the whole door off!!! It's a good (& cheap way!) of getting air conditioning during the summer months!!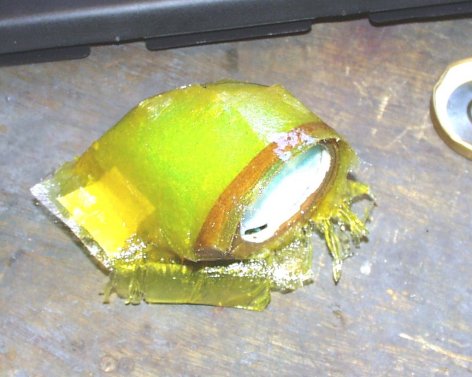 I'd always wanted some type of guage in the car, I couldn't have a boost guage as I don't have a turbo(shame!) but wanted something that changed as the driving did, an Air/Fuel Ratio monitor perhaps?
So I made a pod and ordered the guage. First I carved the pod from blue foam which is very similar to ordinary foam but a lot denser and great for shaping. Then I fibre glassed over the top of it to create the pod, once that had hardened off I dug out the foam and voila one pod. I them mounted this to my A pillar on the drivers side so that I can see it easily without it blocking my view.
It's a lovely little thing that has it's lights bouncing backwards and forwards as your driving and a good tool for setting up if your that way inclined.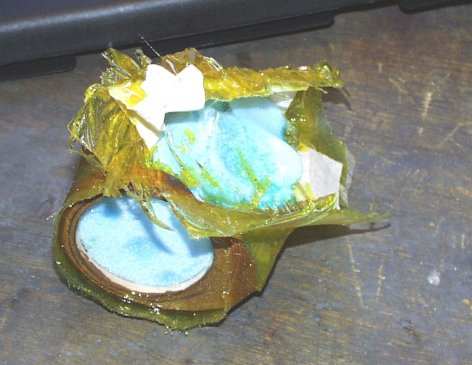 Various bits of the install are for sale as well. The Calibre CA150 & CA70 and the JL Audio subbs in the box or out and if the offer is sensible the ZX500 might be on offer with the subbs.
I want to try and get just that little bit more out of the system, so 4 ohm voice coil subbs are the order of the day. Make me sensible offers if your interested.
I haven't really done a lot lately to the car, small things that just add that little extra to it, a set of titanium window wipers with their silvery look along with a set of those fairly new out LED washer jets.
Now these are catching on really well, unfortunately certain colours don't make you very good friends with the police namely blue so can cause grief. Guess what the first colour I had was?! Yep blue!
They'd been on for two weeks before I got stopped, the two police that stopped me were very nice actually and just asked that I turn them off when I'm on the road. While they were there I asked about other colours suitable for use on the car instead of blue, green wasn't to bad as it could just be a medical vehicle but white appears to be the colour to have if you want to stay legal.
Hence a set of white ones now reside on my bonnet and after having over taken a police car last night I can say I don't think they worry about white ones.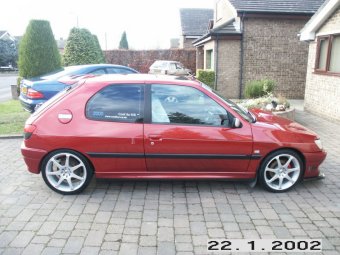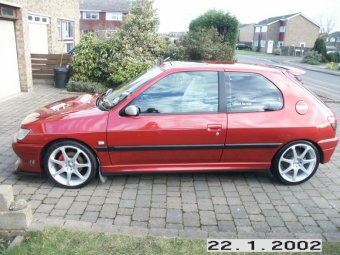 I have a few other plans that just require the money to make happen so I'm saving for them. One problem I have had is that I don't now have a spare wheel. The 17's I have use a spacer and very different wheel bolts to my last wheels, which I have also now sold on so don't have anything to use as a spare. To get around this problem I have ordered another Bk alloy but a 15" one to use as a spare with a cheap tyre. My line of thinking is that it will use the same spacer and wheel bolts so I won't have to carry around with me different bolts and sockets making changing a wheel a lot easier. I'm just hoping I don't ever have to!!!
I've finally had some performance brakes fitted, namely Black Diamond Drilled & Grooved all round and Feredo pads, along with braided brake lines and DOT 5.1 fluid added. So far they seem very good indeed and the power of them is phenominal, so far they only have about 400 miles on them so are well on the way to being run in.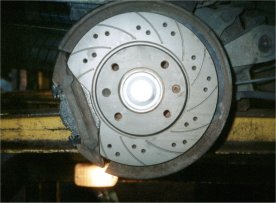 The only headache I had was my insurance company classing this as another modification and as I had already specified the full six on my certificate their survey said "uh uh!".
So it was bye bye Bell Direct and welcome HIC (Herts Insurance Company) who were very helpful and understanding. So much so that they aren't to worried about cosmetic modifications, more engine work which I haven't had done yet and hence gave me a very good deal, thanks to them.



After having the car for some time now and the obvious theory of it not getting any younger (shame) I took the decision to have the whole engine rebuilt. For a few reasons other than just because I wanted to.
1. I didn't really want to get rid of the car, I've to much history love and effort put into it.
2. I couldn't afford to really anyway, if I'd have strayed from Peugeot it would have been something japanese like and Evo (I wish), Scooby or even one of the new Civic Type R's. Which while all three are great cars they all cost money both to buy and maintain and with my connections through the local pug garages I'd be slitting my own throat going else where.
3. And finally considering it's just ove 7 years old now (1995) it doesn't really look out of date amongst the current crop of new cars and my example still looks great, with or without the bonnet orniment no matter how sexy it is! :-)
The strip was amazing, a real eye opener for someone as excited about cars, engineering and generally nosey! I was in and out of the workshop every week taking pictures and while it took some time as they had other commitments it was worth it.
The work done was carried out by Cambridge Motorsport/Mass Racing Engines in Gt. Gransden not far from me. A true race engineering workshop who's heritage spans many many years and has gained a wealth of experience. Get link on links page.
It feels so much better now, I no longer worry that something may be amiss inside the lump as everything is new or has been tested for longevity and a trouble free life. It also looks good again to, not that you can see all of it but as everything was stripped and cleaned or repainted it now looks the part.
More photos to follow, but for now here you go :
Well for a start I went through two back windows when they shattered while I was driving!!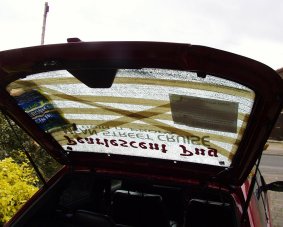 As you can see it was a total mess, I was just driving along the motor way when I heard a loud bang, I looked in my rear view mirror and couldn't see through it. At first I thought I'd been shot as I was travelling by some open fields, everyone else was blaming the bass!!! So I called my insurance company and had a new window fitted, which I thought would be the end of it but it wasn't!
A month later it went again, in roughly the same position along the same road to! Again another call to the window guys had another window and then we had a look into what could be causing it. It turns out it was one of the screws holding my spoiler on that was doing it. I'd had to shorten them as they were to long but it seems I missed one out, hence it was resting on the window and I think while driving was acting like a pneumatic drill on the window and suddenly it just shatters.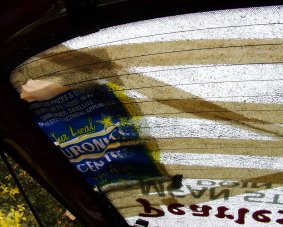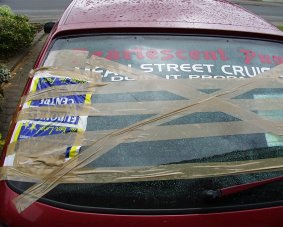 So far it hasn't gone again, I'm keeping my fingers crossed! I will say one thing though when they do go it's bleedin loud and the glass shoots every where!
I've also finally got my way and had a photo shot with one of the magazines, REVS. The issue it was in being Novembers, it was something I had been trying to get done for the last year and a half so I'm happy.
Just recently the car had started to idle very erratically and jump between the normal 750rpm and 1200rpm while ticking over. I mentioned this to my trusty mechanic and was told I'm to picky, but then a few days later the engine quit when I down shifted back to the garage.
Once there we ran the car on the computer diagnostic machine to see what was happening, it turned out to be a dodgy throttle position sensor so I ordered the new one and changed it myself.
It required a fair amount of dissassembly to do it easily but also allowed me to clean a previously uncleaned bit of the car and the throttle body to.

Well my beloved S16 has finally got itself a new home and is on the road to a new lease of life with some nice work instore for it.
The bodywork will be brought back to pristine condition and the whole car will generally be looked after.
I will keep you up to date with it when I can, if the new owner is ok with me doing so.