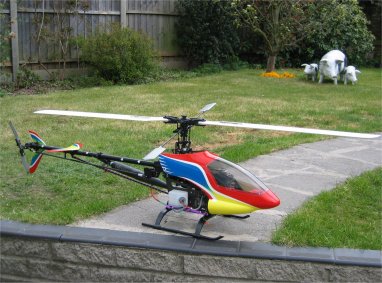 Updated 26/01/2004
These are my model helicopters. I have recently got a full sponsorship deal to fly a particular make, www.centuryheli.com and these are my machines.
The one on the left is my main competition model and the one I will be using when I enter various events this season.
The colourful one on the right is my practice machine, the one with which I try all my new manouvers with as it's cheaper to repair, or should I say was till I was given the newly painted canopy! Present Day: The canopy has been repaired once and was back up to a good condition, but now it resides again, battered and cracked after another miss-hap. I'm happy to say neither of the crashes were my fault though!
A bit different to the cars but very interesting and fun all the same, not easy or cheap to do but rewarding.